Published on March 19th, 2015 | by admin-bfcst in General
0
The Gentry Day, Saturday 21st March
Preston North End Supporters will be holding their annual Gentry day when they visit Oakwell on Saturday 21st March.
The details of the event are posted below.  Barnsley supporters are welcome to join in the fun and don a bowler hat or flat cap.
The rearranged date for this years Gentry Day is the 21st March at Oakwell the home of Barnsley FC.
Following North End's progression in the FA Cup the original choice for Gentry Day had to be changed. We hope most supporters will support this new date and help us once again to show everyone that "Preston's fans are the best, they are the Gentry".
The Return of the Gentry is organised by the Preston Supporters Group (supported by PNE-Online) and is in memory of any Preston North End follower or player who may have passed away in the last 12 months. The Gentry term was first used by third division championship winning manager Alan Ball Snr in the early 1970s stating to the Press after a game that "Preston fans are the best, they're the gentry".
This inspired a number of PNE fans to don bowler hats and even pin stripe suits at Deepdale.
In 2005 PSG arranged the "Return of the Gentry" in memory of John Tracey, a member of the original PNE Gentry who sadly passed away. This was a massive success and even saw North End's players wearing the famed bowler hats on the pitch.  In 2008 with the support of PNE-Online and other supporters groups, PSG decided to make it an annual event for all North End fans and the people of Preston to remember anyone they may have lost during that season/year. In what will be another vital match on our quest for automatic promotion.This season 'The Gentry' will now be heading to Oakwell for the Saturday March 21st £PM Kick ,Fixture at Barnsley.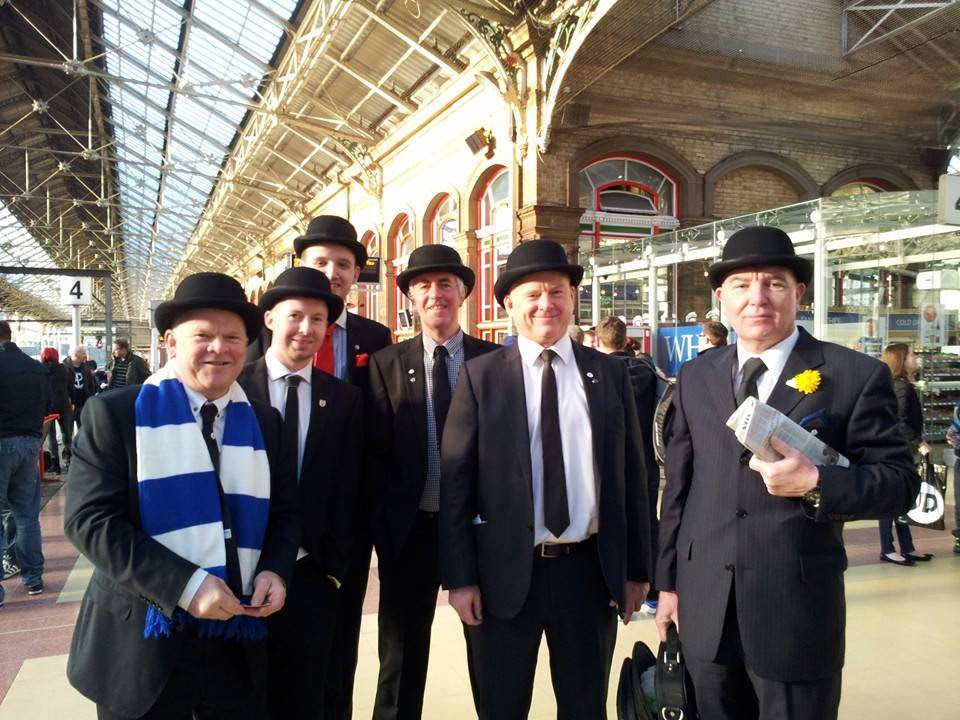 Preston Supporters Group with the support of PNEONLINE will be pulling out all the stops to make this another great day in the PNE fans' calendar. We are determined to make this the best 'Gentry Day' yet and will work together with other groups to ensure it is.  However it will not be a success without your support, so please get out your bowlers, pinstripes, bow ties and lets once again show town once again that "The Gentry" are a cut above everyone else. The football club and the Lancashire Evening Post will also again be backing this fan led event and as ever we thank them for their support.
Whilst we are all having a good time on the day, lets not forget what the true meaning of Gentry Day. As ever a memories and dedication thread will be available on PNE-ONLINE for supporters to post stories and names of supporters they would like to be remembered on the day itself.
scrolling="no" frameborder="0″ style="border:none; overflow:hidden; width:100px; height:27px;" allowTransparency="true">
data-text="The Gentry Day, Saturday 21st March" data-url="http://bfcst.org.uk/the-gentry-day-saturday-21st-march/"
data-via="" >